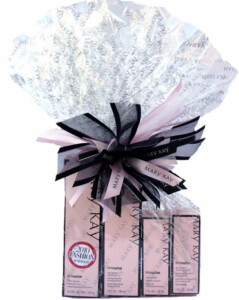 When putting together a gift basket with Prima Wraps' folding gift baskets use approximately 5 feet of cello wrap. Our cello roll has 100 feet on them so a roll should do at least 20 gift baskets. If you use other types of holders for baskets that are bigger generally you will yield 15 baskets.
When wrapping a gift basket place the basket in the center of the cello kiddie corner, then take the front corner and back corner of the cello and bring it towards the top, now take the side two corners and swoop it towards the back of the basket this will allow all the bootchie gathering to be in the back of the basket so you can clearly see your products in the front. You will gather all the excess cello from the side bringing toward the back and then tightly tie the center of the cello wrap close on top of the highest part of your basket with ribbon. Curling ribbon can be used to tie it securely.Complete your basket by gathering the top of the cello and cutting it straight across to finish your poof. Embellish it with a bow and Mary Kay Ribbon.
As the colder weather approaches you might start selling coffee & cream. This package would include a coffee mug with a hand cream. You can use Prima Wraps' 7 x 15 cello bag if it is a standard coffee mug or if you have a roll of cello you can cut squares. When using a cello roll because it is 40 inches wide roll out two feet of cello, cut it straight across, then fold it in half and cut it up the middle so you can wrap 2 mugs in one length of the cello and have no wastage. Place your mug in the center of the cello, gather the four corners, gather the sides to bring all excess cello material to the middle and lastly tie it off with some Branded Mary Kay Ribbon.
If using Prima Wraps' pom pom bow to tie up cello on a gift basket and you want the name Mary Kay to stand out just tag line it. What you do is cut a piece of ribbon approximately 14 inches and tie it in the middle of the bow so that the tails hang off of the bow like streamers.
If using a pom pom bow to tie up cello  on a gift basket and you want the name Mary Kay to stand out just tag line it. What you do is cut a piece of ribbon about 24 to 36 inches and then underneath the pom pom bow tie that ribbon underneath the bow to tie a scarf around the neck of the cello puff. The ribbon will line the side of your basket with Mary Kay.
Mary Kay branded gift bags are an easy way to deliver product to your customers. Simply take any set and place it into a 8x10x4 gift bag, if its a re-order of smaller colour cosmetic and such use the 6x6x2 gift bag and if you are selling a roll up or volume firm set use a 10x13x5 gift bag. Finish the gift bag by putting 2 pieces of tissue in the 6x6x2 or 8x10x4 and 3 pieces in the 10x13x5. if using the 6x6x2 gift bag take Prima Wraps' tissue and cut it half and that can be your 2 pieces of tissue.
Prima Wrap's tissue quality is like no other. The colours are beautiful, the sheet is a bigger sheet then all stores plus it is thicker so it holds it puff in a bag. Branded or decorative tissue has 6 sheets to a tube and solid tissue has 12 sheets to a tube. Why a tube because there won't be folded squares all over your tissue thus looking beautiful in a bag all clean and not wrinkly.
And Who like WRINKLES… Kelly suggests to buy 2 branded tissue tubes this will give you 12 sheets and 1 roll of solid tissue which will give you 12 sheets then in a bag put one solid with one branded to cut down expense.
Stay tuned Kelly will have more wrapping tips to come……